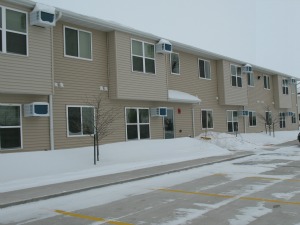 Housing developers have access to two types of funding sources through EDHA. Unfortunately, EDHA does not have the ability to work with individual homeowners or renters. All of the work we do is related to construction of single- and multi-family homes as well as rehab of multi-family apartment buildings.
HOME Funds
EDHA serves as a Community Housing Development Organization (CHDO). As a CHDO, EDHA receives HOME funds through the North Dakota Department of Commerce, which it in turn invests in housing developments in the form of low interest loans.
Community Loan Fund
EDHA has also earned certification by the United States Department of Treasury as a Community Development Financial Institution (CDFI). The focus of this fund is to provide flexible, short-term financing for the development of affordable housing, particularly in rural underserved area in the form of a Community Loan Fund (CLF) .
For more information on either of these funds, please contact EDHA.